Follow the directions, make your choice, find the right edgebanding adhesive now!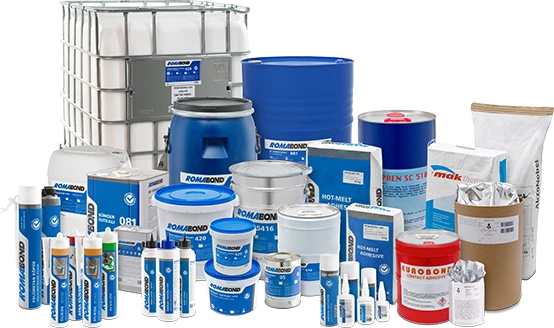 Adhesive Selector
ROMABOND ADHESIVES
Professional Bonding Solutions: ROMABOND Industrial Adhesives
ROMABOND Industrial Adhesives are adhesive materials used in industrial applications. Industrial adhesives are often formulated to be durable, high bond strength and suitable for a variety of conditions.
In our adhesive portfolio, there are various industrial adhesives that are determined by considering the needs and machinery of our business partners. These are in four main categories: EVA-based, reactive hot melt, water-based and solvent-based adhesives. These adhesives are offered under the brands of ROMABOND and MAK to meet the needs of the market.
Our product collection includes adhesives suitable for different applications such as straight edge banding and curved edge banding, natural wood applications and pressing, membrane press and natural coating press, laminate and wrapped coating. These adhesives are designed to provide reliable adhesion performance and to be used effectively in industrial production processes.
Industrial adhesives are an important type of adhesive material, which are commonly used in furniture, woodworking, automotive, packaging, building materials and other industrial sectors. These adhesives provide fast, robust and durable joining of materials, increasing efficiency and quality in production processes.
Types of ROMABOND Industrial Adhesive
Our wide product range in the field of industrial adhesives offers various professional adhesive solutions consisting of hot melt adhesives, water-based adhesives, solvent-based adhesives, reactive hot melt (PUR) adhesives family.
High Quality Bonding Solutions: ROMABOND Carpentry Adhesives
ROMABOND Carpentry Adhesives (Construction Adhesives) are designed to give the best results in all climatic conditions, by combining more than 20 years of experience with quality raw materials and advanced technology.
It has been developed to fully cover the needs of the users and includes all kinds of product alternatives suitable for the furniture, construction and building sectors in its portfolio.
Types of ROMABOND Carpentry Adhesive
Carpenter and contractor adhesives family offering high performance and practical bonding; It consists of ROMABOND Polyurethane Foam, ROMABOND PU Liquid Nail, ROMABOND Contact Adhesive 035, ROMABOND Mirror Silicone, ROMABOND Montage Adhesive 415, ROMABOND Silicone, ROMABOND Montage Adhesive 101, ROMABOND Fast Adhesive, ROMABOND Marine Adhesive products/ Transparent Marine Adhesive.