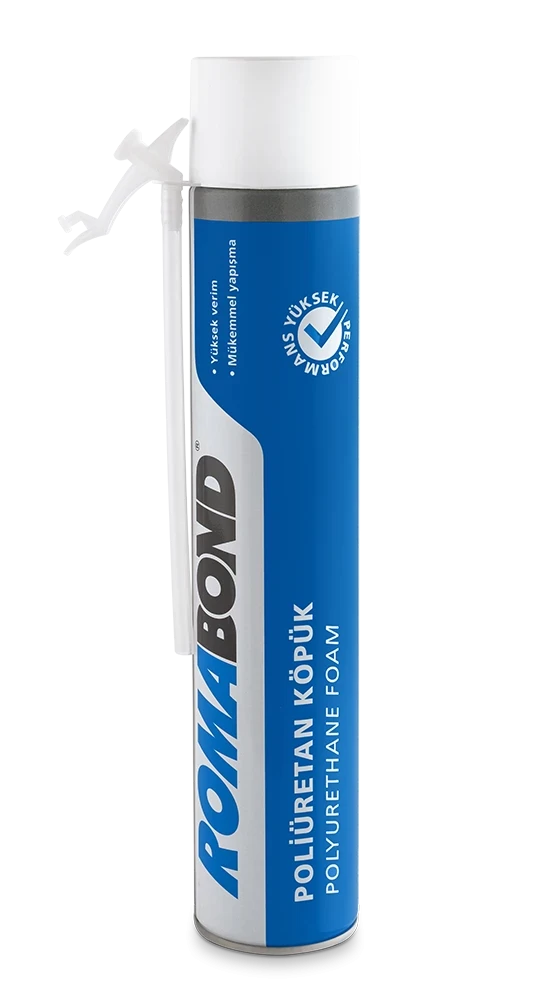 Carpentry Adhesives
Romabond Foam
Single component, aerosol polyurethane foam used as a general purpose filling, bonding and insulating material. The higher the moisture level on the surface applied, the better the performance of the foam. Does not contain any propellant gas hazardous to the ozone layer.
Perfect assembly and stability features; could be used for bonding a wide range of construction materials (except polyethylene, polypropylene, teflon, silicone, oil etc.), water and mold resistant.
Substrates must be stable, clean and free of substances likely to impair adhesion.
To ensure a good and even curing of the foam, moisten the mineral or porous substrates (brick, concrete, limestone) with water.
Shake the can strongly before use (15-20 times).
Screw the plastic straw applicator or gun to the valve. Position the can upside down and press the valve for the foam to come out. Dispense the foam sparingly and cover the application area 50% only in order to allow the foam to expand.
Newly applied foam can be cleaned with acetone or PU foam cleaner. Cured foam can only be removed by mechanical methods.
Ideal ambient temperature during application is +20 °C.
Packaging: 750 ml / 860 gr
Box content: 12 pieces
Available in 3 packaging alternatives: with plastic straw, gun or safety valve.
Carpentry Adhesives /

Similar Products